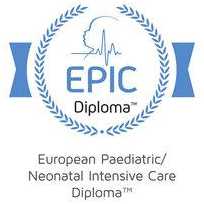 The EPIC Diploma™ program (European Paediatric / Neonatal Intensive Care Diploma™) is a peer-developed, consensus standard, following best practices of Council of European Specialist Medical Examinations (CESMA) – and advisory board of The European Union of Medical Specialists (UEMS).
EPIC Diploma™ offers a straightforward, two-part pathway to Board certification. The purpose of the program is to harmonize and improve quality standards for safe, independent practice in paediatric and neonatal intensive care in Europe and elsewhere.
If you have any questions about the EPIC Diploma program, eligibility requirements, application process, preparatory resources, or exam logistics, please email us at epic@espnic.eu. We are very happy to answer your questions and to help you prepare to be successful in your pursuit of the EPIC Diploma!